Este sábado Douglas Bowman, por si alguien no le conoce, uno de los mejores desarolladores web ampliamente conocido por su labor en la promoción de los estándares web especialmente desde su blog y creador, entre otras obras maestras, de la versión actual de Blogger, confirmaba que se va a Google para desempeñar un cargo creado para él: Visual Design Lead en el que será el responsable de las interfaces de los productos colaborativos y de comunicación como Calendar, Writely, Gmail Page Creator, y el mencionado Blogger.
¿Google quiere dejar de ser feo?. No. Nunca ha sido feo, aunque le ataquen por ahí "pseudo-gurus insulsos" como apunta Armando Sosa. Google ha estado tradicionalmente mal maquetado y ahí Bowman con su experiencia en interfaces sociales, además del talento gráfico ¿por qué negarlo?, al servicio siempre de la "usabilidad Google" encajan a la perfección. Lástima que las tareas de Bowman no incluya la maquetación del buscador.
Siguiendo con la usabilidad…
Este artículo de Don Norman y el más reciente publicado por Derek Powazek en los que critican la usabilidad y el diseño de la home del buscador comparándola con MSN Search y Yahoo solo generan confusión. Joshua Porter repasa los dos textos y aporta opiniones muy interesantes:
The success of Google doesn't come from their sparse homepage, their goofy logo, or by "deception". It comes from the ability to consistently give relevant results to our queries… end of story.

For Google to change its design strategy to satisfy the whim of a few designers would be suicide. It would ignore their amazing success to date, erode the emotional attachment of the people who use it, and start them down the slippery slope of compromising a simple, easy-to-use search engine.
¿Rediseños de la home de Google como el que propuso Andy Rutledge pueden ser un suicidio?. Es más estético. Con niveles de información mejor jerarquizados, pero que a priori, a falta de análisis con usuarios, tendería a la distracción. Principalmente, con los azules de fondo y los contenidos de la parte inferior.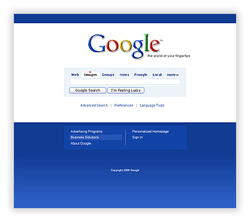 Volviendo al fichaje de Bowman. Una prueba más de que la vanguardia en la industria del diseño web se encuentra en la blogosfera y que las interfaces sociales, en las que por definición pasaremos mayor tiempo navegando, han de ser además de muy eficaces como todas, "enamorar" visualmente.
Dicho esto, sin contenidos no hay diseño pijo que te salve.