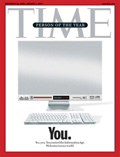 La revista TIME ha elegido como persona del año 2006 a los usuarios de internet. Concretamente a los que visitan y aportan contenidos a la web 2.0: blogs, videoblogs, fotoblogs, foros, realidades paralelas… constituyendo lo que la revista denomina: la democracia digital:
Power to the People. You control the media now, and the world will never be the same. Meet the citizens of the new digital democracy
La portada es un espejo que, según el comunicado de la revista, refleja la idea de que tú, no ellos, estás transformando la era de la información. Pues sí.
Si nos tomamos al pie de la letra su aviso legal de medio tradicional, no podríamos reproducir la foto de la portada en esta anotación ni hacer el extracto de la noticia. Poco a poco…
En enero de 2007 romperán la tradición de salir los lunes y aparecerán los viernes con el plan de tener más lectores. El mes pasado ya eligieron a You Tube como invento del año.
¿Cuántos enlaces recibirán en las próximas horas? Como daño colateral tampoco está mal.
Como dice el editor, Now It's Your Turn.